A double serving of Harvington Hall
New historian Interview, Event schedule published
Welcome to this week's History round-up newsletter.
This week I was at Harvington Hall twice, so I'll be telling you all about that in a moment, I've also been finalising arrangements for this Autumn's Online history Festival, hosted by British History Events, The Stuart Summit. I hosted two live events this week and was interviewed for another! Thursday Tea Time Live is available to rewatch on YouTube, Instagram and to listen to on the Podcast. On Saturday night I had the great pleasure of speaking to Natalie Grueninger on her Talking Tudors Patreon.
Firstly, I am very excited to let you know that the latest historian interview is now live. Kate McCaffrey is the Joint Assistant Curator at Hever Castle and the author of some incredible work into the secrets held within Anne Boleyn's Book of Hours. In this interview, I was able to ask Kate about her research, her findings, what they tell us, and how they may change our outlook on Anne and her religious development. We also got onto talking about her ongoing research into the Book and also her work at Hever Castle - with an exclusive about next year's exhibition too!! Click Here to Watch
(Members of my Patreon head over there and click on the link from there to get the extended and ad-free epsiode)
Harvington Hall by day and by moonlight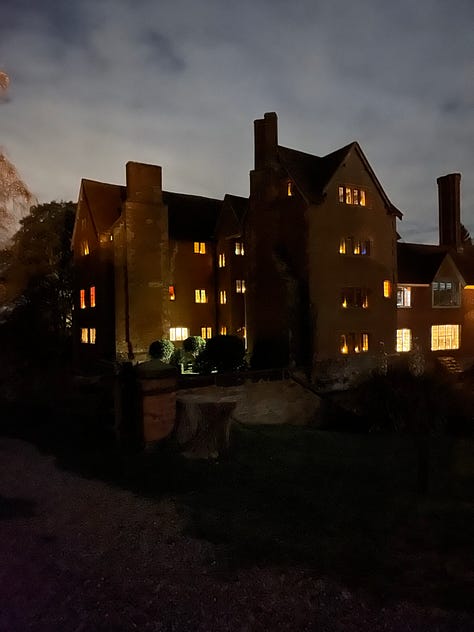 On Wednesday I met Deb Roil from Tudor Places magazine at Harvington Hall. We were welcomed by House Manager Phil Downing. As it was Deb's first visit (I am very lucky to be friends with Phil and live only 10 minutes from Harvington and so get to go quite often) Phil spent 4 hours with us and telling us about the Hall and how it keeps giving up its secrets. Harvington Hall is a treasure trove for Tudor and history fans with its plethora of original features, including floor boards, panelling and wall paintings galore!
See a Live Walkaround of Harvington Hall in Patreon - Click Here
See my interview with Phil Downing on YouTube - Click Here
I was back at the Hall on Friday night for the Manor by Moonlight event (it was actually a very bright moon that night!). It's probably most accurate to descibe it as a performance which brought to life the Hall in an imagined scenario which told the story of the life of Catholic families in Elizabethan England. The Packington family characters were real people, as were their guests for the night, the Habbingdons, and even the Head Priest Hunter, alongside a cast of servants, soldiers and priests. We witnessed the terrifying scenario of the Queen's soldiers coming to search a house suspected of hiding Catholic Priests at a time when people's faith was a matter for the Government and not the individual's conscience. I will be sharing more photos from inside the house with my Patrons over on Patreon - Join now for £5 per month (cancel anytime)
Next Weekend is The Stuart Summit!
Here is the event schedule for this Autumn's Online History Festival, The Stuart Summit. We have a line up of 7 incredible historians all delivering talks, 2 live events and a free prize draw. All talks will be avialable to watch until the 31st January 2023, so don't worry if you can't catch them as per the schedule or, watch again!
Tickets need to be purchased before 7pm on Friday 18th November.
Until Next Week, wishing you lots of history fun, Philippa x
Thanks for reading British History! Subscribe for free to receive new posts and support my work.