Discover more from British History
Exploring British History through stories, people and place
Over 2,000 subscribers
Abbey, Castle, Rubbish Gunpowder and Books
Things going on this week
Hello Fellow History Lover!
Today I travelled 4 hours to the south coast to visit two sites pivotal to English history; Battle Abbey and Battlefield and Pevensey Castle. I'm going to go out on a whim here and guess that you may have heard about one but not the other? That would make sense but curiously not because one place saw more activity than the other.
Battle Abbey and Battlefield

Pevensey Castle

Rubbish Gunpowder, Desperate Treason and a Crap Plot - What you didn't know about the Gunpowder Plot of 1605

Book Club voting closes tonight! - Click Here to Vote

7 talks, a live Q&A with 7 historians, a live quiz (everyone loves a quiz right?), exclusive discounts and entry to a free prize draw are all waiting for you at this Autumn's Online History Festival: The Tudors - Click Here
---
Pevensey Castle
Pevensey Castle can date its origins back to the AD290s, due to its origins as a Roman shore fort. Now a mile away from the shoreline, the unusually shaped fort (its oval rather than the rectangular shape expected of a Roman fort) was occupied for over 100 years. Anderitum, its Roman name, was home to soldiers and their wives and children throughout the 4th century. It was built during a time of usurpation when an officer, sentenced to death for supposedly aiding the pirates he'd been sent to Britain to combat, declared himself emperor of Britain…and then had to build forts to defend himself against the Roman invasion which was bound to come.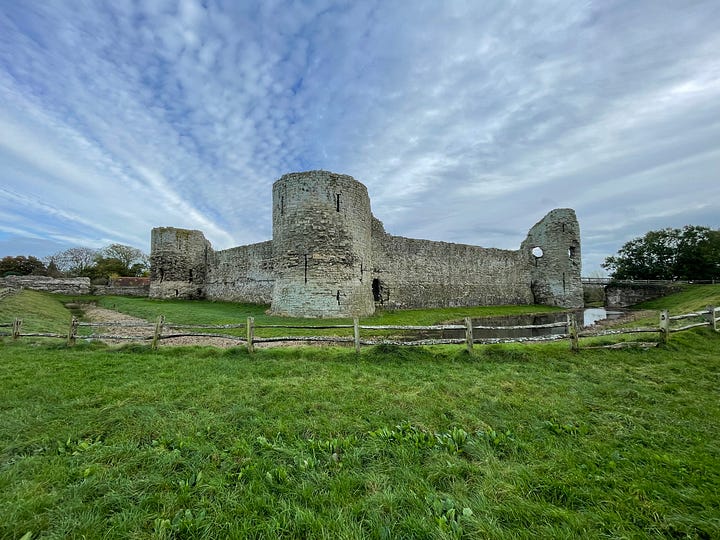 The collapse of Roman rule left the Britains vulnerable and in AD471 a Saxon raiding party slaughtered all who had settled within the abandoned Roman fort. 600 years later, the castle, by now with its Anglo-Saxon name of Pevensey (Pefensea) meaning 'river' or 'march' belonging to a man named 'Pefen,' saw another foreign invasion… William of Normandy was coming!
In the early hours of 28th September 1066 William, Duke of Normandy landed at Pevensey. He fortified the castle, secured his ships and left a garrison of knights before leaving for Hastings where, two weeks after landing, he beat King Harold at Hastings.
Which leads me onto the next place I visited today….
Battle Abbey and Battlefield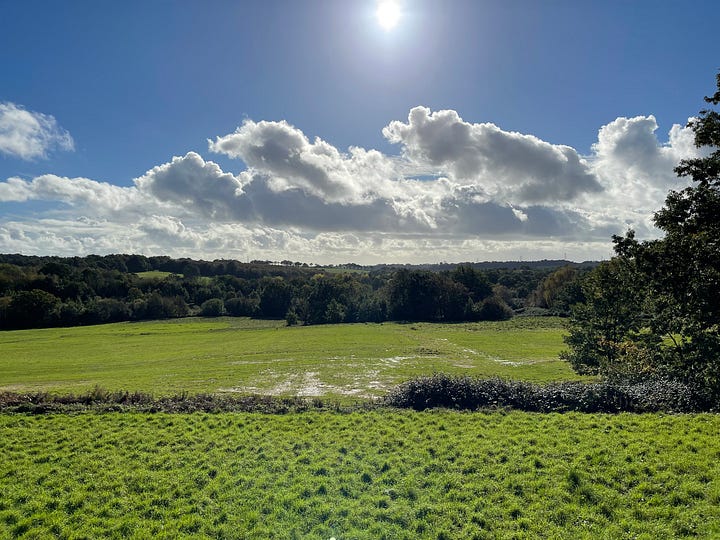 When William, Duke of Normandy beat the last Anglo-Saxon king of England, Harold II at a field north of Hastings on 14th October 1066, history got the most precisely timed epoch change ever.
By legend, the new king William ordered the establishment of an abbey on the site of the battle to atone for the death suffered there. The abbey church was completed in the reign of William's son, William Rufus, who attended the consecration in 1094. Religious observance ceased at the Benedictine Abbey when abbot Hamond and the 18 monks, sat in the Abbey's Chapter House, signed the surrender of the monastery, in May 1538.
Henry VIII granted Battle Abbey and its lands to his Master of the Horse, Sir Anthony Browne. He demolished the church, chapter house, refectory and cloisters. He kept the gatehouse as the formal entrance and adapted the Abbot's lodgings for himself.
The site passed though many hands over then centuries, each making their own alterations, and was bought by the UK government in 1976 with the help of a group of Americans who wished to use it to commemorate the bicentenary of American independence. This site, and Pevensey Castle, are now run by English Heritage.
British History is a reader-supported publication. To receive new posts and support my work, consider becoming a free or paid subscriber.
---
Rubbish Gunpowder, Desperate Treason and a Crap Plot
Ok, I didn't really call this week's live stream that….but maybe I should have!
Watch from 3pm tomorrow (Wednesday 1st Nov) - Click Here
---
Book Club 2024
Voting closes at midnight tonight - cast your vote!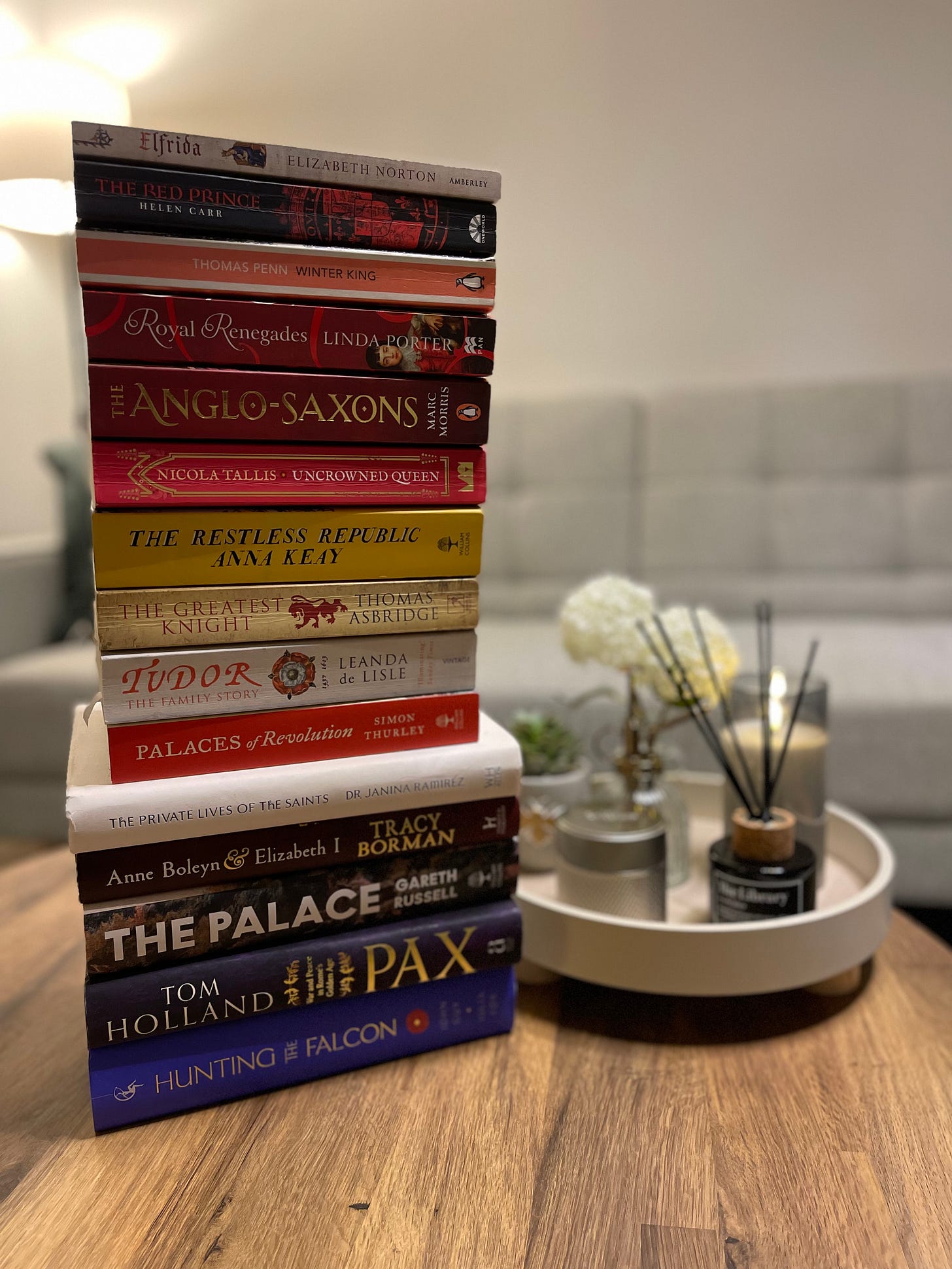 ---
I do hope you'll catch my weekly show tomorrow (you can also click the link given above to watch on the catch up) and join History After Dark for our final in the Deceased Gits series 2023 at 8:15pm (UK time).
If I don't see you at either of those I will see you hear next week :-)
British History is a reader-supported publication. To receive new posts and support my work, consider becoming a free or paid subscriber.